Senior Projects 2012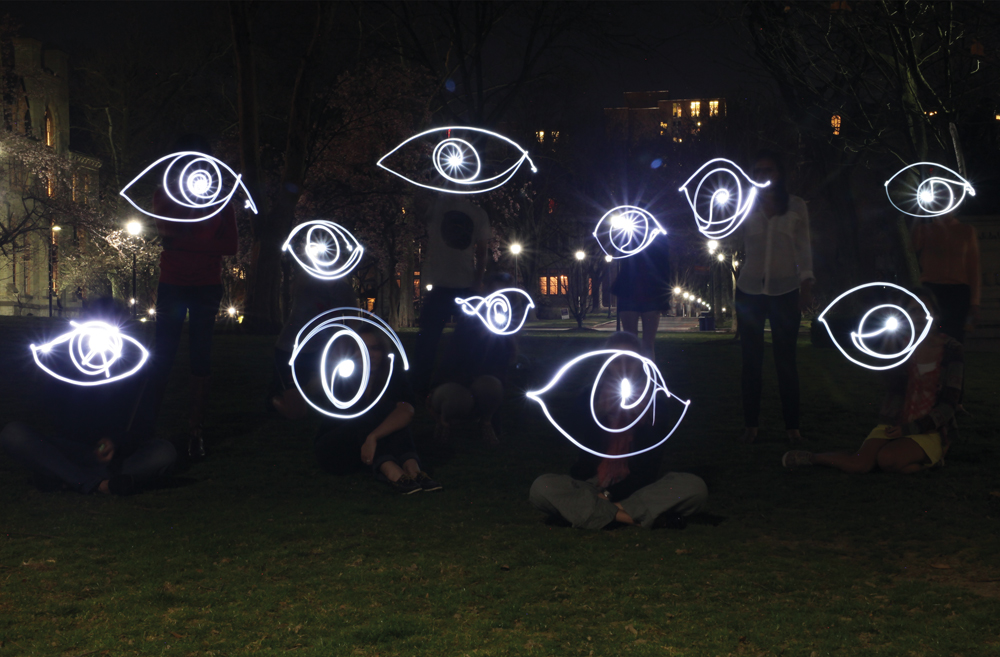 MICHAEL LEJA
VISUAL STUDIES PROGRAM DIRECTOR
One of the hallmarks of Visual Studies as a field is working across disciplines. It requires commitment to discovering insights about vision and visual images through combining lessons drawn from neuroscience, philosophy, art history, art making, psychology, and media studies. This challenge attracts students who enjoy putting together unlikely things, blazing new trails, and thinking outside boxes, which is why the annual exhibition of senior thesis work can beexpected to contain impressive surprises. This year's exhibition is no exception.
The members of the graduating class of 2012 worked throughout the academic year developing their projects with individual guidance from two faculty advisers in different disciplines, who came from all corners of the Penn campus. Moreover, the students collaborated in a yearlong thesis workshop, led by Professors Gregory Tentler (a specialist in art history) and Matt Freedman (an artist and teacher of art practice), in which they worked out ideas and gave one another critical feedback. Brooke Sietinsons, program administrator for Visual Studies, helped the students realize their visual presentations, and, together with the students and Matt, prepared the thesis exhibition and designed the invitation and catalogue. The Visual Studies Program and its students deeply appreciate the indispensible, creative contributions of all these individuals.
To the graduates: congratulations, and thank you for sharing your imaginative intelligence with the Visual Studies Program.
_______________________________________________________________________________________________
MATT FREEDMAN | GREGORY TENTLER
VLST SENIOR THESIS SEMINAR INSTRUCTORS
Over the past eight months, the students in the Visual Studies Senior Seminar have met weekly in the Jaffe building as they developed their theses, the capstones of their academic careers at the University of Pennsylvania. It has been a pleasure—and an education—to watch the evolution of their projects. New ideas and possibilities have emerged and, just as crucially, previously held assumptions have been tested and found wanting. The range and depth of the theses, engaging variously studio art practice, psychology, new media, the history of science, biology, book arts, ecology, advertising, gender politics, education theory and practice, botany, commerce, business economics, and social activism, provides a dizzying insight into the curiosity and ambition of this community of students. It has been especially interesting and rewarding to watch as concepts have been sharpened and serendipitous notions and associations have risen to prominence. Intellectual and creative ferment in its most explicit and productive form has been robustly in evidence.
The way in which the visual thinking of the thesis writers has been honed and turned to best advantage has been especially striking. No less impressive has been the interplay between the students' scholarly research and the visual development of their work. Through presentations over the course of the year visual ideas have altered and advanced the intellectual work of the papers. It is a richly symbiotic relationship, one that will stand all these remarkable people in good stead as they move forward into careers in varied fields.
_________________________________________________________________________________________________
Class of 2012