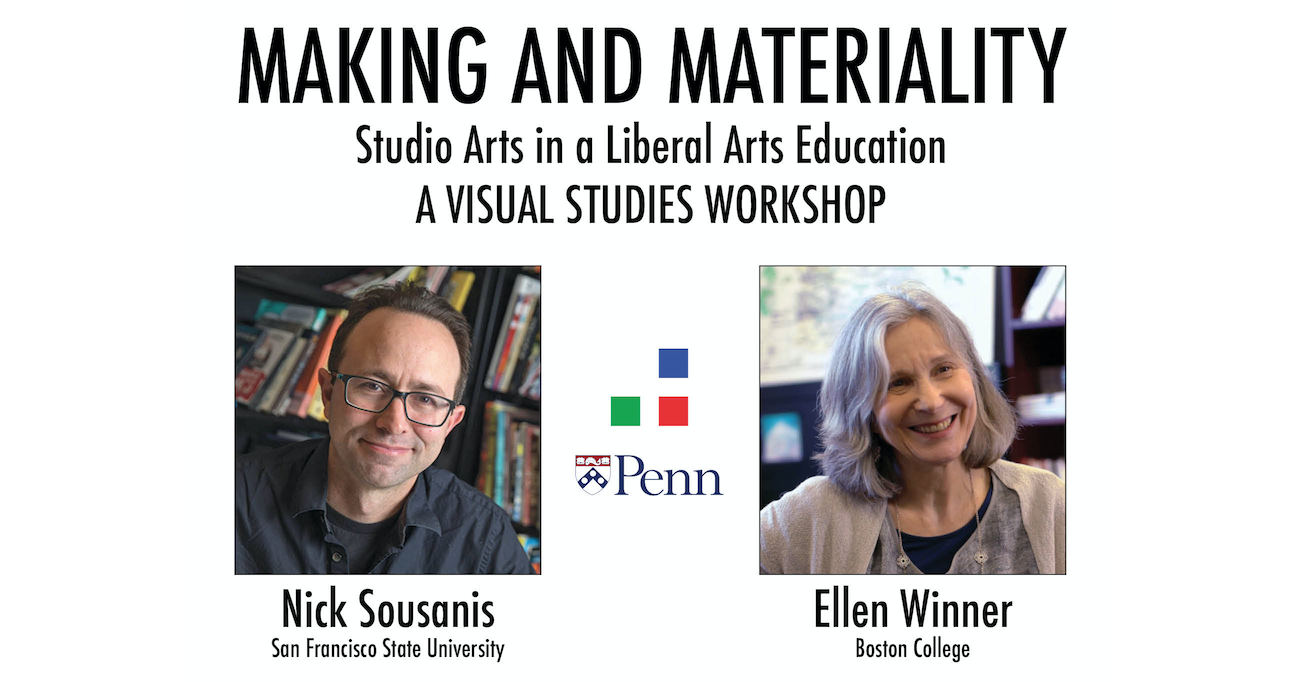 AGENDA:
Friday, September 15
Two Keynotes, Cohen Hall, 249 S 36th St, Room 402
2:00-2:15 Gary Hatfield (Penn, Visual Studies, Philosophy)
      Welcome
2:15-3:45 Nick Sousanis (San Francisco State University): Thinking in Comics: New Forms of Learning and Scholarship
Though long reserved for only the decorative and illustrational, the visual is an essential avenue for thinking and facilitating new ways of making meaning. We'll begin our discussion by looking at Unflattening, originally my dissertation written and drawn entirely in comics, which challenges the traditional forms of learning found in academic settings. Then we'll turn to my work with students, who primarily describe themselves as non-drawers, and how having them draw from day one transforms their understanding of their own thinking. Finally, we'll put the pedagogical possibilities into practice through hands-on comics-making activities to get everyone thinking in comics and see how much we already know about working visually. 
Background readings from the author:
Excerpt from Unflattening
"Grid & Gestures: A Comics Making Exercise"
3:45-5:30 Coffee
4:00-5:30 Ellen Winner (Boston College): Studio Thinking: Habits of Mind Taught in the Art Studio Classroom
The arts have taken a back seat role at all levels of our educational system. At the K-12 level, advocates for arts have argued that the arts improve test scores and grades. But this claim does not hold up. Justifications for studying the arts need to be based on what the arts actually teach. I will present evidence for broad habits of mind taught in arts classrooms, and argue that these habits (which will serve students well in all areas of the curriculum) are taught more deeply in the arts than in academic areas. The studio classroom can thus serve as a model for school reform.  
Background reading from the author:
"Studio Thinkng: How Visual Arts Can Promote Disciplined Habits of Mind"
5:30 Reception, Philosophy Lounge, Cohen Hall
Saturday, September 16
Talks and Workshop, Penn Museum, Room 345 (use Kress Entrance) 
9:00 Coffee
9:30-10:10 Michael Leja (Penn, History of Art), Exactness of Eye, Flexibility of Hand, and Endurance of Memory: Educating Citizens through Drawing in the 19th Century
In the 19th century, drawing was understood to be an essential subject at every level of education. It was widely seen as an effective means of imbuing students with perceptual acuity, clarity of thought, and productive skills. Between 1820 and 1860, 145 different drawing manuals were published in the United States; altogether they sold about 150,000 copies. My paper will explore the theories and practices of drawing that accounted for its formerly central place in the school curriculum, in general public literacy, and beyond. 
10:10-10:50 David Leatherbarrow (Penn, Architecture), Drawing to Find Out
The architect Louis I. Kahn's way of working can be seen as a journey, subject to both congested traffic and smooth connections. The drawings and discussions in both his university studio and the professional office show a combination of false starts, reversals, insights, accumulations, and conclusions unfolding over time. Sometimes, what appeared at a drawing's margins as an accidental mark indicated an unforeseen possibility. Retrospectively the results make sense, but during the work's unfolding the process is not entirely clear where it is going. Success requires alertness to possibilities as they emerge. Drawings can be said to be the instruments of this emergence. 
10:50-11:10 Coffee
11:10-12:05 VLST alums: Kira DiClemente (Brown, Public Health): Visual Communication
The ability to accurately and effectively visually communicate information is critical, no matter the field. By pursuing a liberal arts education that encourages making, students learn to engage with the many different ways that human experience is rendered. The opportunity to practice graphic techniques and improve ones visual understanding equips students with critical skills in data visualization as they move forward in research in any field. This presentation uses my undergraduate and graduate experiences as a case study for such opportunities. 
Vincent Snagg (UX Designer, IBM): Purposeful Play in Design: A Studio Arts Approach as a Foundation for Change 
Design is a field that traditionally has been linked with decorative objects and craft. Yet within the past half-century, the design process has come to be associated with the broader theme of change — societal, business, and technological change. I will discuss the way a central component of this shift — visual thinking — encourages a studio arts approach to problem solving within the organization, and has become a model for these organizations to raise questions and challenge assumptions through a "purposeful play" discovery process. I will then speak to the way art-making practices in a liberal arts education enhance our capacity to consume and produce arguments that are increasingly visual and marked by rapid technological change. 
12:05-12:30 Anne Tiballi, Ellen Owens (Penn, Penn Museum): Object-Based Learning in the Museum
Over the past 150 years, museums have moved from repositories for objects to actively engaging audiences through object-based learning. How does access to museum objects transform educational experiences? How can these experiences move beyond the traditional museum-associated disciplines of archaeology and art history to engage learners from across the humanities, social sciences and STEM fields? Drawing from the work of the Penn Museum's Academic Engagement and Learning Programs departments, we will showcase some examples of successful object-based learning within the Museum, with special attention to direct, hands-on applications and the use of creative reconstructive, and experimental 'making' programs. 
12:30-2:00 Lunch, Museum Visits, Making Demo in Classroom 3 and outside
2:00-2:40 Michelle Lopez (Penn, Fine Arts): Exit Music (for a Film): The Misconceptions of Sculpture/Process,Radical Gesture
Public monuments have long iconicized and deadened the experience of sculpture with a viewer, and art education has intellectualized process as objects to be named, rather than built. This lecture examines the responsibility of the artist to work with materials and our cultural objects, in order to make something that actually has the agency to communicate with viewers. Process and gesture are examined in an attempt to find more radical terms, away from the romantic notion of the inspired artist 
Background reading from the author:
2:40-3:20 Anjan Chatterjee (Penn, Medicine):Schematic Representations
The hypothesis that much of cognition is embodied is ascendant in contemporary cognitive neuroscience. However, strong versions of this view raises an obvious question, how do we abstract? I will focus on one kind of abstraction, visual schemas, that are intermediate between richly textured pictorial representations and purely symbolic lexical representations. I will explore their psychological and neural reality and suggest that such abstractions invite flexibility and generativity that are critical to creative thinking and have implications for education.
3:20-3:35 Coffee
3:35-4:15 Thomas Leddy (San Jose State University): Dewey: The Liberal Arts and the Visual Arts 
Dewey, surprisingly, had little to say about the topic of our workshop. Most of his early work on educational theory was directed to K-12 education, and his later ground-breaking work in aesthetics, particularly in Art as Experience, never directly discusses liberal arts education. However he did sometimes address the nature of the liberal arts, both in a debate with Robert Maynard Judson over that latter's The Higher Learning in America, and in his small piece published in 1944 "The Problem of the Liberal Arts College." Moreover, the impact of his theories on arts education was profound, mainly by way of his influence on the WPA and on Black Mountain College. In this paper I shall argue that the 1944 essay opened up a space for an expanded notion of liberal arts, while Art as Experience provides the basis for placing the studio arts at the very center of such an expansion particularly relevant for our own time. 
4:20-5:30 Panel: Mark Campbell (Dean, College of Art, Media & Design, Univ. of the Arts, Phila); 
John Carvalho (Villanova, Philosophy); David Comberg (Penn, Fine Arts); Matt 
Freedman (Penn, Visual Studies/Fine Arts); Michelle Lopez (Penn, Fine Arts); VLST alums. 
5:30-7:30 Buffet dinner in Guest Dining
ADDITIONAL READINGS:
On the general theme:
John Dewey, "The Problem of the Liberal Arts College" 
The Atlantic, "What Will a Liberal Arts Education Look Like in 50 Years?"
Longer Works:
Marc Treib, Drawing/Thinking: Confronting an Electronic Age   
Co-Sponsord by: Greater Philadelphia Philosophy Consortium, History of Art department, Philosophy department, Provost's Interdisciplinary Arts Fund, University Museum, Wolf Humanities Center